OPPO has unveiled the latest update plans for its smartphones to the world. What you see above is there official roadmap of ColorOS 11 of February 2021 for Europe and for the European Economic Area (EEA). There are so many smartphones that are receiving and will receive the new customization based on Android 11 this month, among which there are also some models that will be updated in Italy. Let's go and discover them starting from our country.
Roadmap ColorOS 11 in Italy in February 2021
Below are all the OPPO smartphones for which the update is already being distributed at this time in Italy.
Find the X2 Pro
Reno4G
OPPO A52
The Reno4 5G is also listed in the list of models that will update "starting in February", which indicates that this is probably a very gradual roll out. If you own one of the devices mentioned and have not yet received the update it is normal just because distribution takes place gradually. Furthermore, often the smartphones branded by the operators receive the update with different and longer times, because it is the managers who decide when the roll out will start.
ColorOS 11 Global Roadmap in Europe and EEA in February 2021
Now all the OPPOs that will receive the update in February throughout Europe, including those mentioned above which will be updated in Italy. We report, translated into Italian, the roadmap that you can consult above on the cover.
Update already in progress
Find X2: Spain, Switzerland, Turkey, Ukraine, Romania
Find X2 Pro: Switzerland, Belgium, France, Italy, Spain, Germany, the United Kingdom and the Netherlands
Reno4: Poland
Reno4 5G: France, Switzerland and Italy
Reno4 Pro 5G: France and Switzerland
Reno4 Z 5G: France
Reno4 Lite: Turkey, Ukraine, Poland, Romania and Moldova
Reno3: Turkey, Poland and Ukraine
OPPO A72: Netherlands
OPPO A52: Italy and Spain
Update starting from late February
Reno4 5G: Portugal and Italy
Find X2 Neo: The Netherlands, France and Spain
Reno3 Pro: Ukraine
Reno4 Pro: Ukraine
February 11 Updates to ColorOS 2021 Global (excluding Europe)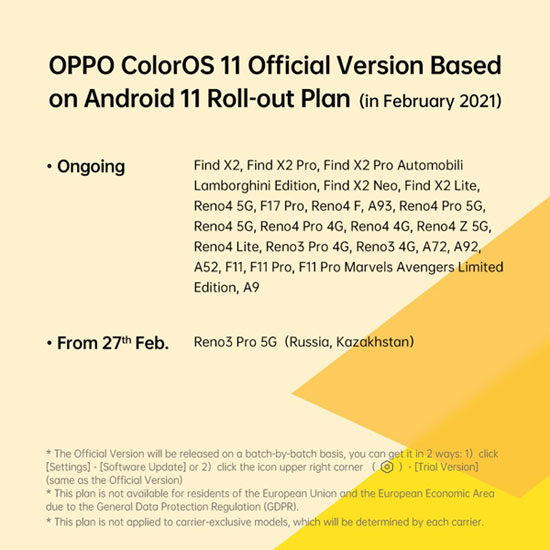 This roadmap contains the smartphones that will receive ColorOS 11 and Android 11 sui international markets with the exception of Europe.
Update already in progress
Find X2
Find the X2 Pro
Find X2 Pro Automobili Lamborghini Edition
Find the X2 Neo
Find x2 lite
Reno4G
F17 Pro
Reno4 F
A93
Reno4 Pro 5G
Reno4G
Reno4 Pro 4G
Reno4G
Reno4Z 5G
Reno4 Lite
Reno3 Pro 4G
Reno3G
A72
A92
A52
F11
F11 Pro
F11 Pro Marvel's Avengers Limited Edition
A9
Updates from February 27th
Reno3 Pro 5G: Russia and Kazakhstan
February 2021 Beta Roadmap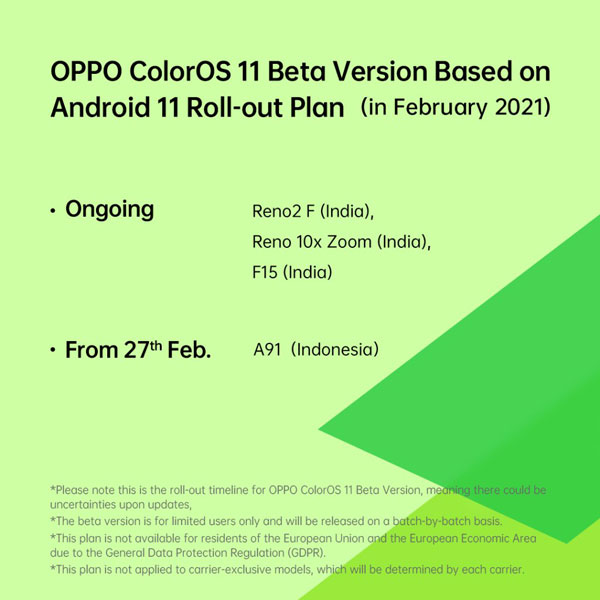 Unfortunately the beta version is not available in Europe due to reasons related to the GDPR regulations, so the smartphones that will receive the beta this month only concern the Asian market.
Beta phase in progress
Reno2 F: India
Reno 10x Zoom: India
F15: India
From February 27th
To view all the other previous update plans published so far, we refer you to the article with all the roadmaps of the new ColorOS.