Crisis? No, thanks, at least for the smartphone market. After the inevitable decline caused by the Covid-19 pandemic, the mobile phone market is ready to flourish in 2021, according to the forecasts of the latest market research. Gartner. Analysts were optimistic and predicted one smartphone industry growth of 11,4% yoy for 2021, which would result in a total amount of 1,5 billion of mobile phones sold.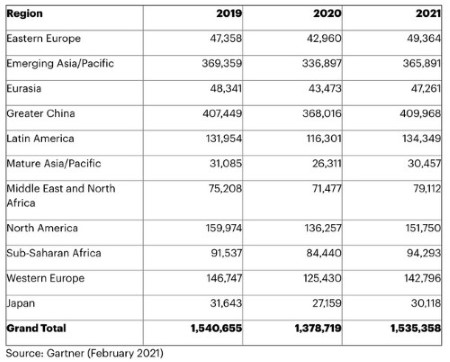 Of all these devices, 142.796 would be sold in Western Europe. Judging by the overall picture provided by Gartner, the market will return to the level of 2019 with a slight increase in sales that should persist also in 2022. The Senior Research Director of Gartner explained that in 2020 consumers have lowered their spending cap for smartphones, but the news coming from the manufacturers will cause a significant increase in application in 2021.

Specifically, the increase in sales would be caused mainly by the combination of delayed cell phone replacements and the availability of low-end 5G smartphones. In 2021, 5G devices sold are expected to be 540 million, more than double in 2020. The markets with the highest growth are expected to be Asia (Pacific), Western Europe and Latin America. According to Counterpoint's latest research related to Q4 2020, the top 5 manufacturers on the world market are in order of position Apple, Samsung, Xiaomi, OPPO and Vivo.
Meanwhile in China, smartphone shipments have already returned to pre-Covid level in January, as the latest report from to Reuters. In fact, shipments in the nation increased by 94,3% on an annual basis, reaching 39,6 million units last month, a very different situation compared to the 20,4 million in January 2020 and better than the 32,1 million in January 2019. .