OPPO and OnePlus are two sister companies: they are part of the same Oujia Holdings Ltd. (OPlus) group and have also recently merged their research and development departments into one. But apparently the link between the two manufacturers is about to become even closer. According to the latest rumors from the reliable site XDA Developers, very soon OnePlus will start using OPPO's ColorOS as a software interface on their smartphones.
The change at least for now is not expected in Europe but only in China, where the ColorOS would take the place of HydrogenOS. On the European market, OnePlus smartphones run the OxygenOS and in the old continent no changes are expected. But what will become of the HydrogenOS? According to the revelations of the senior member of XDA identified as hikari_calyx will permanently retire: the official site will be closed on March 24th, while the OTA server will be closed on April 1st.
But that's not all: after the departure of HydrogenOS, it seems that OnePlus will start sell their smartphones on the official OPPO store in China. The Senior Member of XDA has published in support of his statements the screenshot of the announcement given on the brand's group on QQ. It is thought that the upcoming OnePlus 9 series smartphones sold in China will be shipped with the ColorOS on board, but for now there is no official confirmation on this.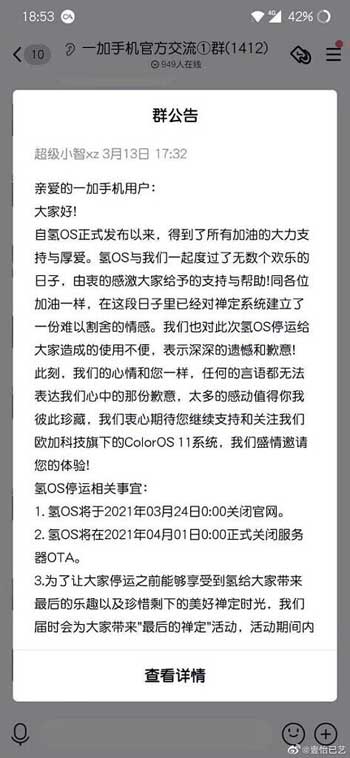 The reactions to the probable decision are mixed: there are those who preferred the interface similar to HydrogenOS stock Android and those who are very enthusiastic about this change. For sure, knowing the ColorOS, the software experience will remain at a high level. OPPO has also brought its interface to Realme smartphones, whose software division was subsequently detached from the parent company, however the user interface, albeit renamed in Real UI, has remained almost the same.