The updates to ColorOS 11 continue to be shipped, although for now only in Asia. OPPO has decided to update 11 smartphones on the Chinese market to the stable version of its new user interface based on Android 5. After a beta testing phase, the models were updated Find X2, Find X2 Pro, Ace 2, Ace 2 EVA Limited Edition and F17 Pro. An Ace 2 owner from our community who managed to import the smartphone from China reported the update as you can see in the screenshot below.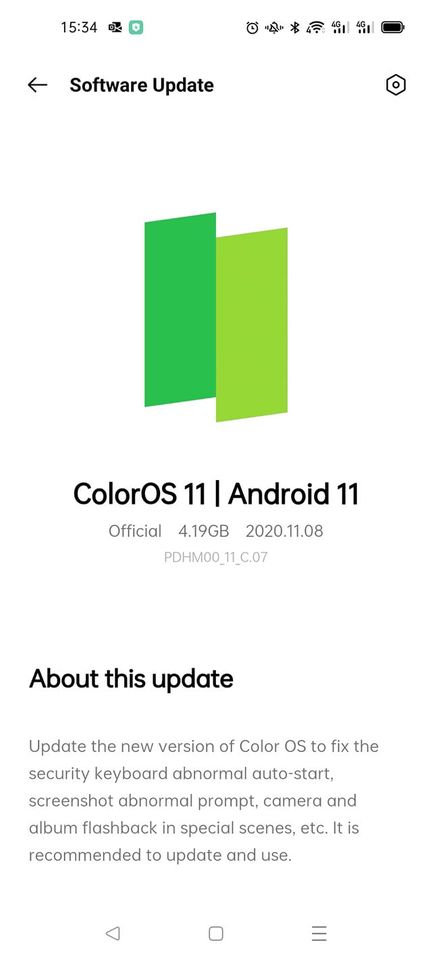 On OPPO Ace2 the update to ColorOS 11 has a weight of 4,19 GB and carries the build number PDHM00_11_C.07. In addition to the news of Android 11, the update introduces several news, starting from the aesthetic ones and related to personalization up to those for privacy and those for performance.
But where are we at the moment with the roadmap? Which smartphones are left and when will the roll out also begin in Europe? Below you will find a list regarding the beta version, while for more information on all the timing (and not just those for China) we refer you toarticle with the various roadmaps released for Asia and Europe.
OPPO ColorOS 11: beta roadmap
Of course, the 5 smartphones mentioned above for the Chinese market are excluded from the following list because they have already received the stable version.
Released
Reno4G
Reno4 Pro 5G
Reno3
Reno3 pro
Recruitment in progress
Find X2 Pro Automobili Lamborghini Edition (China)
Reno4 4G (China)
Reno4 Pro 4G (China)
December
Find X2 Pro Automobili Lamborghini Edition (Europe)
F11 (Asia)
F11 Pro (Asia)
A92 (Asia)
A72 (Asia)
A52 (Asia)
A9 (Asia)
Q1 2021
Reno3 (Europe)
Reno3 Pro (Europe)
Reno3 Pro 5G (Asia)
Reno2 (Asia)
Reno2 F (Asia)
Reno2Z (Asia)
Reno 10x zoom (Asia)
Rhine (Asia)
Reno Z (Asia)
F15 (Asia)
A91 (Asia)
A9 2020 (Asia)
A5 2020 (Asia)