There is no longer any doubt that OPPO is one of the most innovative companies in the hi-tech sector. Less than a month after the presentation of the fastest fast charging in the world with a power of 125W, a patent of OPPO showing a truly revolutionary product: a smartphone with LiFi connectivity. The patent was filed with the China Intellectual Property Office (CNIPA) in December 2019 and was released on July 31, 2020 with lots of images showing the device in detail.
LiFi: what it is and advantages
La LiFi connectivity (Light Fidelity) present in the smartphone patented by OPPO is a technology for internet connection of the same type of WiFi, invented by the German physicist Herald Haas. However, instead of using radio waves for connection as happens with Wi-Fi, it uses light, and specifically LEDs. This solution allows the internet connection to reach very high speeds: it is up to 100 times faster than WiFi (downlink transfer rates up to 10 Gbps, with the possibility of 15 Gbps in the future).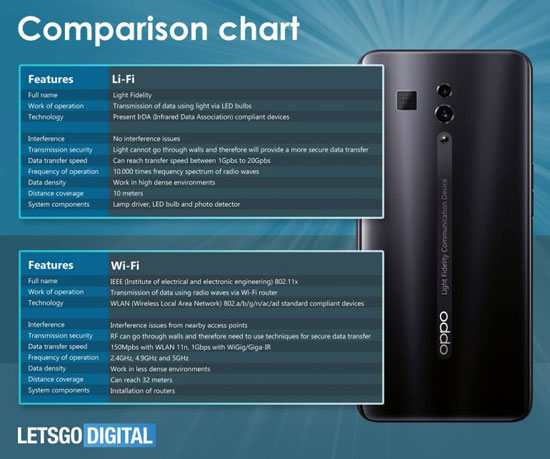 LEDs can be turned on and off at a faster rate than the human eye can perceive and convert data into binary code. Among its advantages, in addition to performance, there are also a lower energy consumption compared to WiFi antennas, the possibility of use in aircraft and the achievement of higher connection speeds in developing areas.
But there is also talk of major security and privacy, because light does not penetrate through walls like radio waves do, so hackers would have no way to sneak into the network from the outside. LiFi is part of the VLC PAN IEEE 802.15.7 standard and can also be used underwater. However, it has a range of only 10 meters (instead of the 32 meters of WiFi) and the most sensible usage scenarios foresee it as a supplement to WiFi instead of a replacement, as it is particularly suitable for increasing download rather than upload performance.
OPPO's LiFi smartphone
The smartphone object of the patent is similar to the models of the Reno series and has a full-screen display (therefore a front pop-up camera), a double rear camera and above all a square module that houses the components for the LiFi, which seems to be connected to a rectangle on the pop-up camera.
It would be a photodetector to convert amplitude changes into electrical signal to enable LiFi communication. According to the official website of this technology, the first smartphones with this connectivity will arrive within a few years. Will OPPO be the pioneer of this technology in the mobile world? We will be here to update you if more news arrives.