Counterpoint's latest market research related to the smartphone market in Europe leaves no room for interpretation: the growth of OPPO and Realme is unstoppable and it is overwhelming everything and everyone. Despite the huge damage caused to companies by the pandemic, the two brands have continued to grow relentlessly and together with Xiaomi they are the only smartphone manufacturers that have recorded marked growth in the top 7.
The data of Counterpoint Research show that Realme was in particular the fastest growing brand in Europe, recording an annual increase in sales of 1083% and selling roughly 1,6 million smartphones. The gap compared to OnePlus is very small, considering that the latter only grew by 5% and sold 2,2 million units. OPPO, on the other hand, grew by 82% selling 6,5 million smartphones, while Xiaomi rose to the podium with 90% growth with sales of 26,7 million units.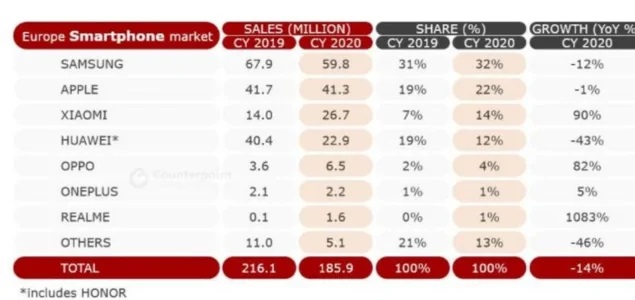 On the other hand, it went badly for Samsung and Apple who have shrunk by 12% and 1% respectively, while remaining firmly in the first two places in the standings. Even worse for Huawei, whose decline amounts to 43%, naturally due to the restrictions imposed by the US ban. According to the previous data the situation is not so different if we consider the whole world market, but only if in the top we reverse OPPO and Huawei, in addition to adding Living, only recently landed in Western Europe, between the two Chinese giants.