Only a few days have passed since what OPPO announced in Italy Enco Air: its new true wireless headphones intended for the middle band. Not even the time to put them on the market that already leaked information on a new pair of TWS earphones, which will take the name of OPPO Enco Play. The official teaser image published by a well-known tipster leaves no room for interpretation: the new headphones will be available for purchase in China starting April 29.
Both in terms of specifications and design, the OPPO Enco Play are not so different from the Enco Air recently launched in Italy, and this makes us think that these headphones may never arrive in our peninsula and remain linked to the Asian market. Judging by the specifications revealed, the new earphones are positioned on a slightly lower range than the Air, so if they ever came to us they would have a price well below 100 euros.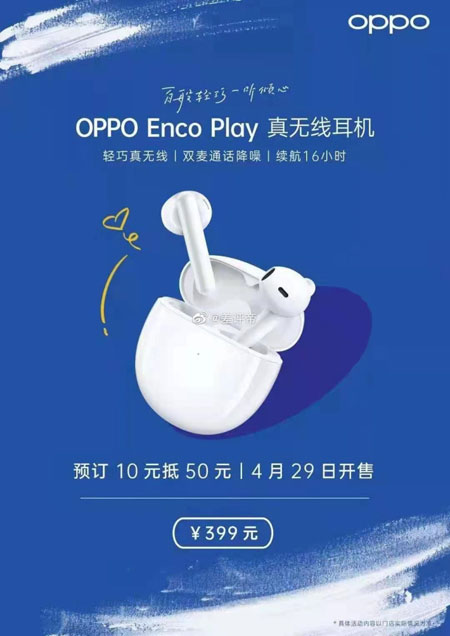 The OPPO Enco Play have a non-in-ear design and will be available in China in Black, White and Crystal Blue colors at a price of 399 Yuan, equivalent to approximately EUR 51 at the current exchange rate. For the pre-order period, however, there will be a discount of 50 Yuan which will bring the price down to 359 Yuan, or about 46 euros. The OPPO Enco Play have driver from 12 mm with frequency response from 20 Hz to 20 kHz.
They connect to the smartphone via Bluetooth 5.2 and support AAC / SBC codecs, with an operating distance of up to 10 meters. Each headphone contains a 25mAh battery that lasts 4 hours with a single charge, whose autonomy can be extended up to 16 hours with the help of the charging case. It takes an hour and a half to fully charge the headphones and charging case.