This is a golden period for OPPO which is increasingly strengthening its presence on the smartphone market and beyond. If on the one hand, in fact, it has launched several smartphones (including the expected one OPPO Find X3), on the other hand it is also expanding its range of accessories. In the last few hours, in particular, he presented a special version of the Oppo Enco X, the Blues Custom Edition. A color variant that matches perfectly especially with the blue coloring of Find the X3 Pro. What are the main features? Let's see it together.
OPPO Enco X Blues Custom Edition: the design
Those who already know the design of the Oppo Enco X, will immediately see that the Blues Custom Edition version does not differ at all. The design it is characterized by great ergonomics. The earphones are very light (they weigh, in fact, just 4,8 grams) and the ends made of silicone guarantee very high levels of comfort.
Thanks to their particular construction, the Oppo Enco X earphones (also in the Blues Custom Edition variant) are absolutely not afraid of rain and sweat. No problem in use during training or in adverse weather conditions. In terms of design, to make a difference with the classic variants that we already know is the color. This time, in fact, they are made with a splendid blue variant that undoubtedly give an extra touch of elegance.
Main features and prices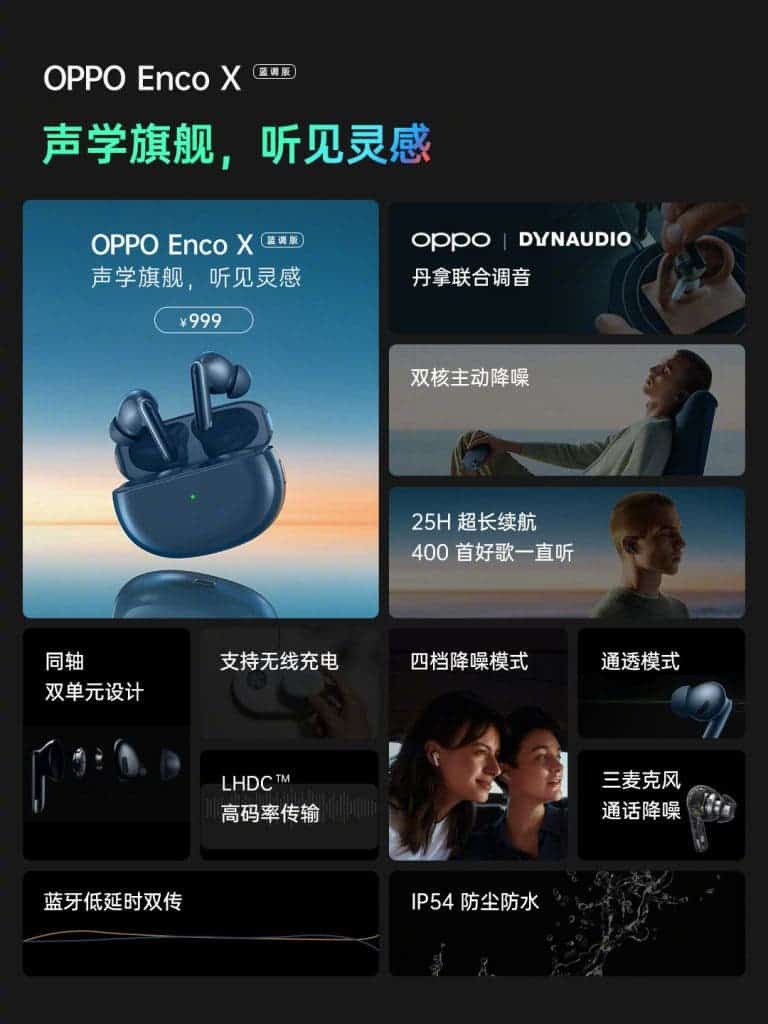 Oppo Enco X Blues Custom Edition, albeit respecting the same specifications as the Enco X, differ in some improvements in terms of functions. What are the main ones? Let's see it together.
Significant improvements to the performance of the Dual Core chipset;
audio enhancement thanks to the dual power microphone;
"Simple and Leisure" and "Warm and Soft", two new sound effects that provide an increasingly optimized audio.
To unite these earphones with the classic variant are other types of functionality, first of all the double ANC (Active Noise Control) e the LHDC that is the high definition and low latency codec. Bluettoth 5.2 guarantees very low latency and maximum connection quality. The battery of the earphones manages to guarantee an autonomy of about 25 hours. It passes to about twenty hours in the event that the ANC is activated.
As for the price, this is currently around 129 euros (999 yuan). Sales are open exclusively in China, at least for the moment. We still don't know if and when global sales will open. We will know a little more in the coming months. Stay connected to not miss the next updates.