OPPO establishes the absolute primacy in the fast charging sector by presenting two new technologies that represent a real revolution for the smartphone market. The most amazing is the Flash wired charging technology with a power of well 125: the highest ever seen. Thanks to the new technology, a 4000 mAh battery can carry one full charge in just 20 minutes, while it can go from 0 to 41% in 5 minutes. All with an energy conversion ratio of up to 98%.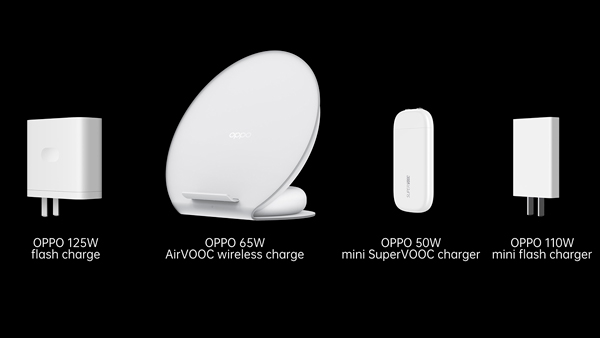 But OPPO has not only thought about the charging speed: to better protect the battery cells and the smartphone itself, the company has created a design with 3 parallel charging pumps that divide the power, as well as 10 additional temperature sensors to maximize the security. The second technology presented is the fastest wireless charging system in the world: it is called Airvooc and reaches a power of ben 65, which until now had only been achieved by wired charging with smartphones such as Find the X2 Pro and Realme X50 Pro 5G.
The new AirVOOC uses a circular design and a glass panel to keep temperatures low, as well as proprietary technology with an isolated charging pump and dual coil design, aimed at increasing efficiency. Operation is similar to that of OPPO Find X2.0 Pro's SuperVOOC 2 technology and a 4000 mAh battery can be fully recharged in about 30 minutes.
On the AirVOOC wireless charger there is also a fan that lowers the temperature by 2 degrees. Together with these two technologies with related chargers, OPPO has also unveiled two other chargers for its smartphones. One of them is a SuperVOOC charger with ultra-compact power of 50W, which is about the size of a portable 4G router.
It is backwards compatible with other VOOC technologies up to 30W. Slightly larger, but still super compact, is the new 110W mini charger compatible with VOOC standards up to 65W. It can also quickly charge smartphones from brands other than OPPO, albeit at more limited speeds. The company currently has more than 157 million users of VOOC technologies around the world and promises to bring many new charging technologies to the market, starting with filing over 2800 patents for the global market.