The latest data published by BCI in China they speak very clearly: after becoming the second producer in the mother country (a little deviation from the first place) in 2020, OPPO is a sales champion also in this first part of 2021. The company is positioned at first place for smartphone sales for 5 consecutive weeks, which include everything January 2021.
Starting from the week that began on December 28, 2020 until January 31, 2021, OPPO has always been in first place in the smartphone manufacturers ranking in China, reaching one share of 21,3% in the last week. A very exciting result achieved just before the Chinese New Year, which closes the last year of the manufacturer literally with a bang.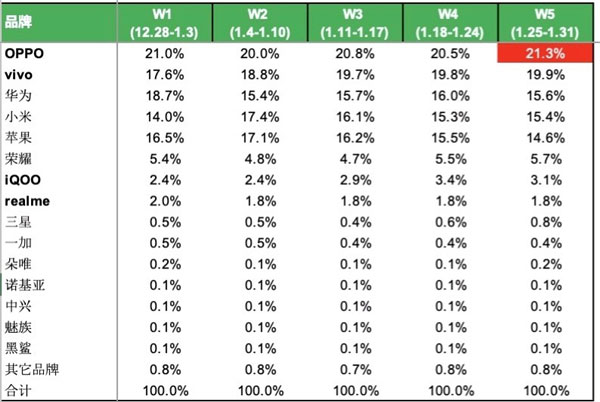 Immediately after, in the ranking of brands, we find another brand belonging to the conglomerate BBK Electronics: Living. Recently also landed in Italy, this producer recorded a 19,9% ​​share in the last week of January. To follow there are Huawei, Xiaomi and Apple, which close the top 5 with little difference from each other. We find a great surprise in sixth place: Honor, recently sold by Huawei due to the consequences of the US ban.
The brand is undergoing a renaissance whose first positive signs, it seems, are already evident. In seventh and eighth place we find respectively iQOO and Realme. The main reason for OPPO's success is definitely the Reno5 series launched in December, whose sales exceeded 100 million RMB in just 10 minutes. And with the imminent arrival of the Find X3 series, for this 2021 we are only at the beginning.