OPPO Reno2 Z has received the update to Android 10 and ColorOS 7 for some time now, however, the new software update via OTA has not yet arrived to some users. Many are therefore left with the question mark about when Android 10 will arrive on this device and have puzzled in the search on the forums, contacting OPPO and looking for downloads.
A user in our community still waiting for the update was able to find the firmware to download to manually update the smartphone to Android 10 and ColorOS 7. The firmware is available at download on the Spanish version of the Official site, in the software updates section. It can also be installed without problems on the Italian OPPO Reno2 Z and carries the build number CPH1951_11_C.24, as well as a weight of 2730 MB. We leave you the direct download link.
How to install ColorOS 7 on OPPO Reno2 Z manually
Since this is a manual update, the procedure to follow is different from the one that is followed when an automatic update arrives via OTA. Also, as this is a major update to a new Android version, we recommend that you do a factory data reset (after having backed up your important data because it will be deleted) to avoid bugs and other types of post-update problems. But let's move on to the installation procedure.
Download from the button above and insert the update into the root folder on your smartphone's internal memory using the File Manager app to copy and paste it there.
Switch off the smartphone.
Turn on the smartphone while pressing and holding the power button and that for turn down the volume: when you notice that the smartphone has entered recovery mode, release the buttons.
Select Install from device.
Tap on Install from internal memory.
Choose the firmware downloaded and tap on Confirmation to start the installation.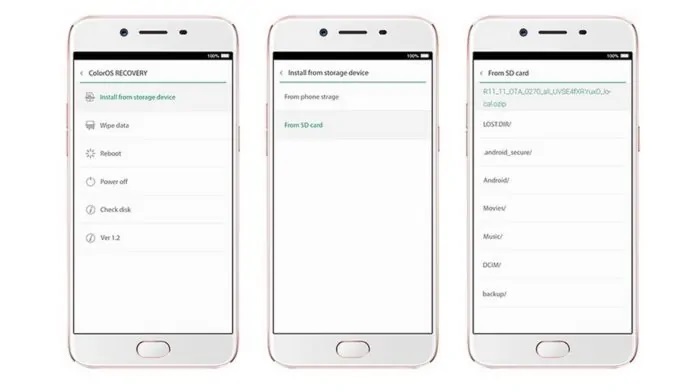 You can update in this way not only on OPPO Reno2 Z, but on any OPPO smartphone in which you want to install a firmware downloaded from the official website.