OPPO has launched three special editions of its latest devices on the Chinese market and in India. On the occasion of the World Cup in League of Legends, the manufacturer has decided to launch a limited version of OPPO watch and Find X2 dedicated to the famous MOBA. Meanwhile, in India, the Diwali Edition of OPPO F17 Pro. Probably none of these devices will be marketed in Europe, but we can admire them in all their glory in the official images.
OPPO Find X2 League of Legends
OPPO Find X2 League of Legends S10 Limited Edition (S10 stands for Season 10 and indicates the tenth season of the game) was launched in China with a price of about 748 dollars at the current exchange rate, in the configuration with 8 GB of RAM and 256 GB of internal memory. Sales have already started on the official website, but apparently the device seems to be no longer available. The smartphone was launched in very limited edition (only 3.000 units). The device has a custom LoL-themed design and packaging with yellow and green being the predominant colors. There is also a 2020 World Cup logo on the back and a custom software theme.
OPPO Watch League of Legends
OPPO Watch was also presented in a League of Legends version, with a strap featuring different shades of green and a LoL-themed custom watch face. It is an exclusive edition Akali (a character from the game) and is priced at around $ 299 at current exchange rates, in the 46mm variant and with pre-orders already started. Sales will start on November 1st.
OPPO F17 Pro Diwali Edition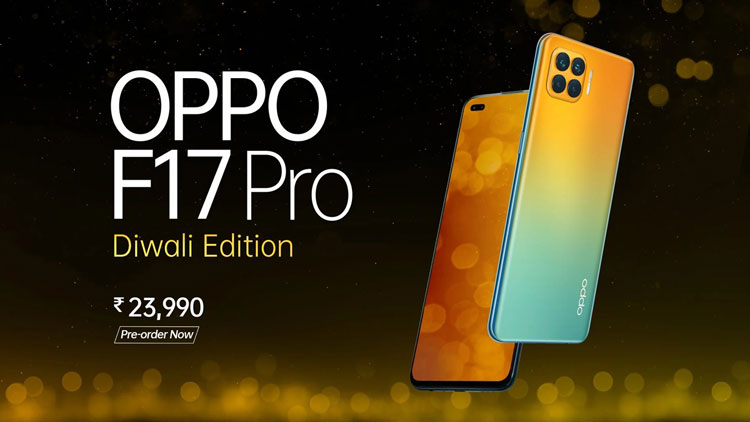 OPPO F17 Pro Diwali Edition is a special variant of F17 Pro dedicated to the Indian festival Diwali. The device is characterized by an original gradient color ranging from gold to blue. The configuration is 8/128 GB and the specs are the same as the standard F17 Pro, but the price is 1.000 rupees higher. The device is sold in a special package that also contains an official power bank with 18W fast charging and a cover dedicated to Diwali. The pre-order is already active and sales will start on October 23rd.