OPPO considers training so important that it has decided to open its own university. There OPPOUniversity will be established soon for cultivation of talents, the transmission of internal culture, the enhancement of internal and external ecology, and the promotion of globalization strategy of the company. Unlike what the title of this article ironically reports, it will not be a university course aimed at obtaining a valid degree to find a job or set up on your own.
Rather, it will be a formative experience that will include activities aimed at training of company resources so that the latter is able to offer the maximum potential for its development. OPPO University will also be used as corporate university not only for staff but also for partners. The company explained that OPPO has moved from a single activity to a multi-business model that concerns the entire global market, and that also for this reason the global development of talents and the transmission of corporate culture have become the top priority in strengthening. of its organizational capacity.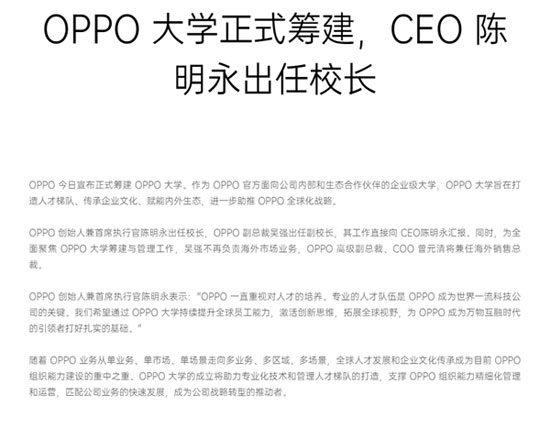 The university will help the team of technical and managerial talents to mark the company's technological growth objectives. The CEO and founder Chen Mingyong will be the president of OPPO University, while the company's vice president Wu Qiang will also cover the same role in the university. At the same time, Wu Qiang will no longer be responsible for international business and will be replaced by the senior vice president. Although its latest initiative is different from a real university, OPPO is by no means new in the university field: recently the company opened the Color Research Lab in collaboration with Zhejiang University aimed at improving smartphone displays.