As per the roadmap, the Early Access phase of the Realme UI 2.0 based on Android 11 has been extended to other 6 smartphones of the Chinese manufacturer. After the arrival on Realme 6 Pro, a few hours ago users in Asia have been able to join the testing phase on Realme 6, C12, C15, X2, X3 and X3 SuperZoom, a sign that the final update is not far off. Unfortunately, the Early Access phase is not available in Italy but has been launched on the Indian market, however a short-term extension to other countries is not excluded.
Who owns an Indian unit of the aforementioned terminals, can join the Early Access phase by going to the settings and then on Software updates. A gear icon will appear at the top right from which you can select the Trial version item and request access to the update via OTA to the new version. It will then come the update in beta version to install on your smartphone.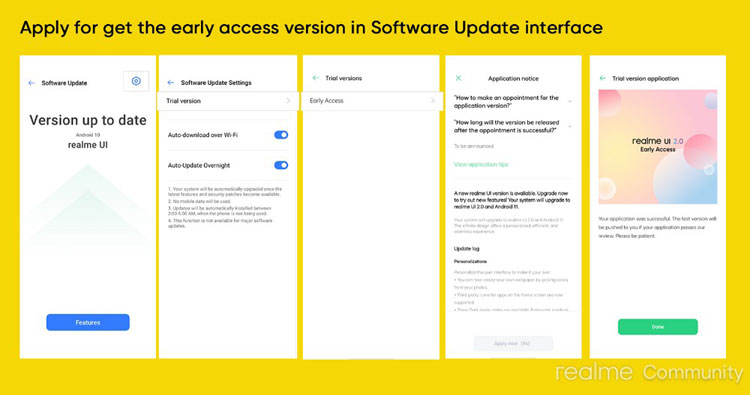 The Early Access phase is only available for one limited number of users, so only a certain number of requests will be accepted. Furthermore, it is not the final firmware, so problems could be encountered, even if they should have little influence on everyday use. The new firmware of Realme UI 2.0 brings several interesting innovations that go hand in hand with Android 11.
To know all the update times, please refer to official roadmap. Finally, remember that Realme X50 Pro already has started updating to Android 11 in Europe, and in the meantime the January patches have been distributed on several devices in Italy.