Available in Italy only for a few days Along with the Watch S Pro, the Realme Buds Air 2 surprised many connoisseurs with their incredibly low price for a pair of true wireless headphones featuring active noise cancellation. Apparently the surprises did not end here because the brand will go even further: in fact, the Realme Buds Air 2 Neo, a variant of the new true wireless earphones with an even lower price, but always equipped with active noise cancellation (ANC).
A truly incredible news, if we consider that it is practically impossible to find ANC headphones already at the price of the model already launched last month. The manufacturer has just confirmed that the Realme Buds Air 2 Neo will be official on 7 April, sharing on its social channels an image that reveals the design and some of their characteristics. The form factor of the new earphones will be different from the standard variant: they will be similar to Q buds, but instead of the Realme logo on the outside there will be a brightly colored insert.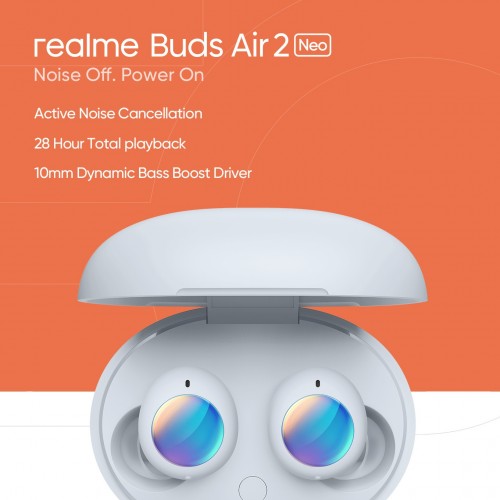 The Realme Buds Air 2 Neo are equipped with microphones for active noise cancellation and for calls, as well as a charging case with a button for Bluetooth pairing. The earphones have gods 10mm Dynamic Bass Boost driver and an autonomy capable of reaching up to 28 hours with the help of the case for battery charging. All that remains is to know the information on availability and the price, which will certainly be lower than that of the Air 2 (which in Italy cost € 49,99 in the list).