Here we are! The 31 March, in a couple of hours, the long-awaited debut in China Realm GT Neo. One of last news on the smartphone it concerns a variant with exceptional characteristics that should accompany those that were already expected. We are talking about a super powerful version with a 12 GB RAM memory. Are you curious to discover it? Let's do some clarity.
Realme GT Neo lands on Geekbench
As is the case with many of the smartphones that are about to be launched, the Realme GT Neo has also appeared, in the last few hours, on Geekbench. The device, identified by the code RMX3031, surprised everyone a bit since this time, a special variant was placed at the center of attention, with a RAM of 12 GB. If, in fact, the other versions (from 6 and 8 GB) had already been spotted at the beginning of March, we cannot say the same for this one that came, therefore, like a bolt from the blue!
On Geekbench we can also examine the very high scores obtained by the 12 GB variant of the Realme Neo GT. A total of 975 points in single core that become 3.320 in multi core. We know that it will come with Android 11 (as well as the other variants) and that it will be powered by a Dimensity 1200 processor from MediaTek. We currently know that together with the GT Neo, Realme will also present (also on March 31st) the Realme V13, a midrange with Dimensity 700, 8 GB of RAM and an internal memory that reaches 256 GB.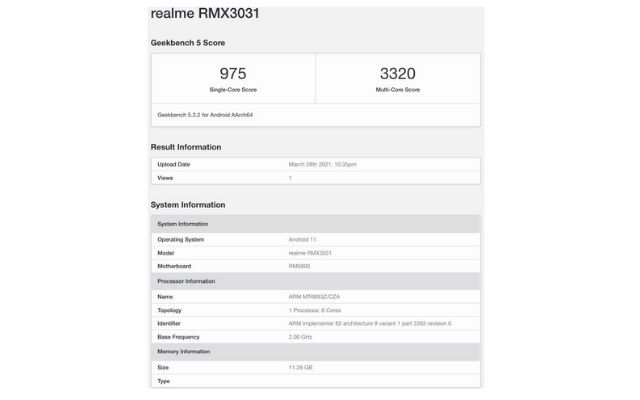 Other specifications known
As launch time approaches, more and more information is available to us about the Realme GT Neo. We anticipated that it will run Android 11, but that's not all. In addition to the type of processor and this super RAM which, apparently, the more powerful variant will be equipped, we know that the device will have two stereo speakers that they will support Dolby Atmos (for an excellent sound quality).
Still in terms of the specifications of the Realme GT Neo, it seems that the smartphone will have a 4.500 mAh battery (a little smaller than that of the aforementioned V13 which will instead have a 5.000 mAh battery). The rear camera will have a triple sensor of which the main one will have a resolution of 64 MP. For the rest, we will find a biometric reader on one of the sides of the smartphone and, in terms of connectivity, a USB type C socket. The confirmed weight, finally, will be 179 grams. For the other specifications we just have to wait. Stay connected to not miss the next updates.