Realme has recently presented its new smartphone models, cheap and with interesting features that make them suitable for those who need technological tools without spending too much. We are talking about Realme 8 and 8 5G, which in Europe will be sold from May both at the same price: 199 €. To them are added three other models ranging from the mid-range up to the upper one: the Q3, Q3 Pro and Q3i models.
But one of the big news is the launch of a new contest. After #Reallygamer, the competition launched in March for all video game lovers, che is about to expire (April 30); this time the company among the most on the rise has decided to involve all creatives and designers. The contest, called "Infinity designer", Is aimed at everyone: professionals and non, and allows you to earn up to dollars 10.000 for the most beautiful wallpaper. The first classified, in addition to the cash prize, will have the opportunity to work in the company.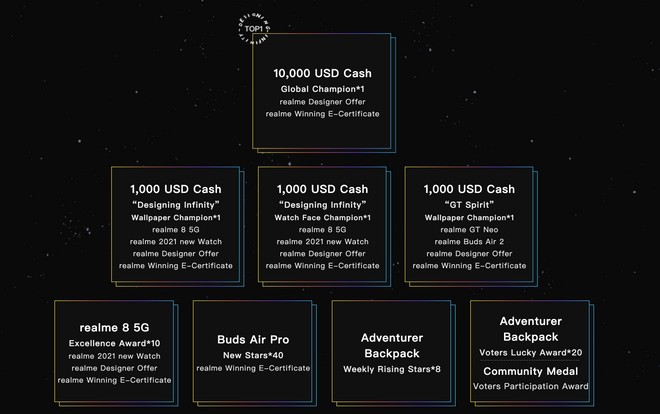 But that's not all. The company has decided to reward 8 wallpaper: 3 will receive a cash prize each worth dollars 1.000 more than Realme devices; the remaining 4 will win only the company's technological products. But a precise deadline must be respected. By 21nd June you can send your own wallpaper, which will be evaluated by the users. They will only be selected 200 based on the votes of the public. The final results will instead be announced on 12 July. For participations, please refer to official page of the contest.