March 31, 2021 will be an important date for Realme in China. In fact, at home, the company will formalize a new device belonging to the V series. A series, this one, entirely dedicated to the Chinese market and the Realme V13 (as the new smartphone will be called) will be no exception. Although there are still a few days left, there are several rumors leaked in the last few hours. If these can't give us a complete picture, we can still get an idea. Let's take a closer look at what the new midrange will look like.
Realme V13, a smartphone with a hybrid character on Weibo
Realme V13 can safely be called one hybrid smartphone. Observing the first images that have leaked, in fact, we can see it as a cross between two devices already available. If the front (therefore the screen) recalls the characteristics of the Realme V15 (made official just two months ago), the rear body reminds us of that of the Realm V11 5G.
If the display, in fact, is characterized by the hole dedicated to the selfie camera, on the back the photographic sector is practically "equal" to that of the smartphone to which it refers. From a post published on Weibo it is clear how the front hole will be located in the upper left corner as well as on the back you can see four photographic lenses enclosed within a rectangular module and positioned, also this, in the upper left.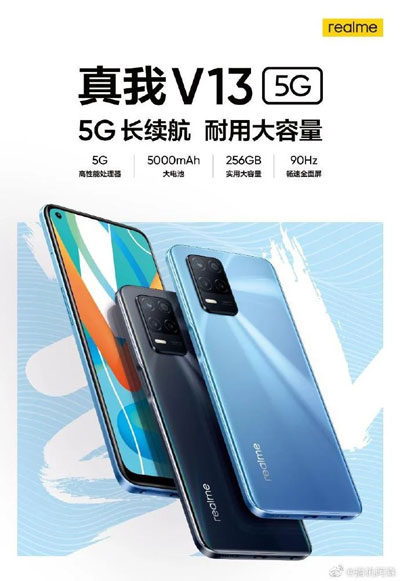 Further smartphone specifications
Referring again to the post published by a certain "Arsenal" on Weibo, the Realme V13 will not have the biometric scanner under the display (the type of which is unknown) but will integrate it on one of the sides. Speaking of displays, however, we know that it will have a refresh rate of 90 Hz and will therefore be able to offer videos and images of excellent quality. The processor will most likely be a Dimensity 700 from MediaTek with 5G connectivity which will be combined with an 8 GB RAM and an internal memory equal to 256 GB.
Another salient feature of the Realme V13 will be its 5.000 mAh battery, capable of guaranteeing excellent levels of autonomy. There is also an audio jack to connect the classic earphones as well as a USB type C port. Two, apparently, will be the colors in which the device will be made available: black and blue. We close with the details concerning the price that should be around around $ 275. We will know, however, more in the coming days as sales (in China only) will start on 31 March. We will keep you posted.