The new images of Realme Watch 2, the smartwatch of the new line of Realme to come, have been released presented on April 30th during the big AIoT event to be held in Malaysia. However, a few days after the launch, the main specifications have already emerged and thanks to an official image also its design. The information on the technical characteristics of the fitness watch comes from the same official website.
The display will be square and its resolution will be 320 320 pixels x, with a 1,4-inch diagonal and TFT LCD technology. The smartwatch will be powered by a rechargeable battery with a capacity of 305 mAh from the duration of 12 days. The former OPPO sub-brand will also have connectivity Bluetooth 5.0 LE and waterproofing with IP68 certification.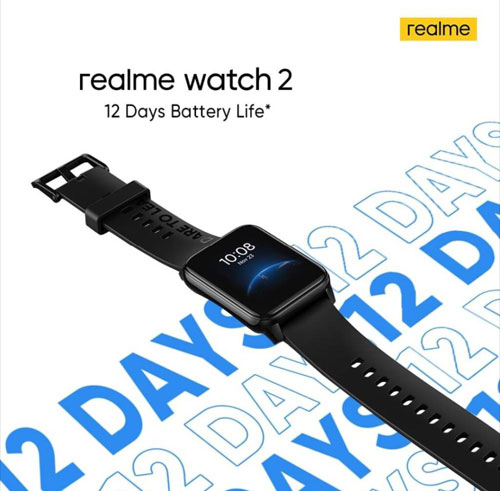 The big news of Realme Watch 2 is the support for 90 training modes, compared to only 14 of the previous model. These technological tools always become more attentive to human health even if with low prices, and in fact we find the function to control the heart rate around the clock, detailed sleep monitoring and blood oxygen level monitoring.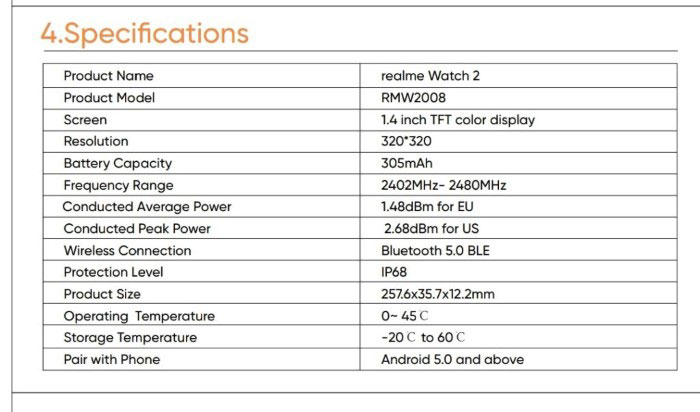 Compatible with Android 5.0 and later devices, Realme Watch 2 supports notifications of app and control of the music. It will also be possible to activate a special meditation mode. However, it should be noted that all 90 modes of the smartwatch will not be available immediately; we will have to wait for an OTA update that will make them accessible. The smartwatch will have dimensions of 257,6 x 35,7 x 12,2 mm and will be identified by the model code RMW2008.