With the Find X2 series, OPPO has dropped a truly deadly trio by releasing 3 Android smartphones ranging from the mid-range to the most powerful top of the range without compromise. The entry-level of the series is OPPO Find X2 Lite. Marketed in Italy on Amazon and in electronics chains, it is one of the most interesting devices of the year because it is among the cheapest 5G smartphones and one of the few to offer support for fifth generation networks at a really low price.
In addition, we consider it a device so balanced that it is flawless for different types of users. Do you want to know if you are part of these types? Let's find out together in the OPPO Find X2 Lite review through which we will analyze in depth all its technical specifications and functionalities.
Technical sheet of OPPO Find X2 Lite
Size: x 160,3 74,3 8 mm x
Weight: grams 180
Materials: Gorilla Glass 5 glasses (front and back) + aluminum profile
Display: 6,4 inches AMOLED Full HD + (1080 x 2400 pixels), in-display fingerprint reader
Processor: Qualcomm Snapdragon 765G, octa-core 2,4 GHz
RAM and memory: 8/128 GB
Software: ColorOS 7 + Android 10
Connectivity: 5G 1,9Gbps, Wi-Fi 6, Bluetooth 5.1, NFC, dual-band GPS, 3,5mm audio jack, USB 2.0 Type-C 1.0, OTG
Rear Camera: Quad 48 + 8 + 2 + 2 Megapixel, f / 1.7 + f / 2.2 + f / 2.4 + f / 2.4 (RGB + wide angle + monochrome + depth)
Audio: mono
Front camera: 32 Megapixel f / 2.0
Battery: 4025 mAh with VOOC 4.0 30W fast charge (50% in 20 minutes)
List price: 499 €
OPPO Find X2 Lite: full review
Design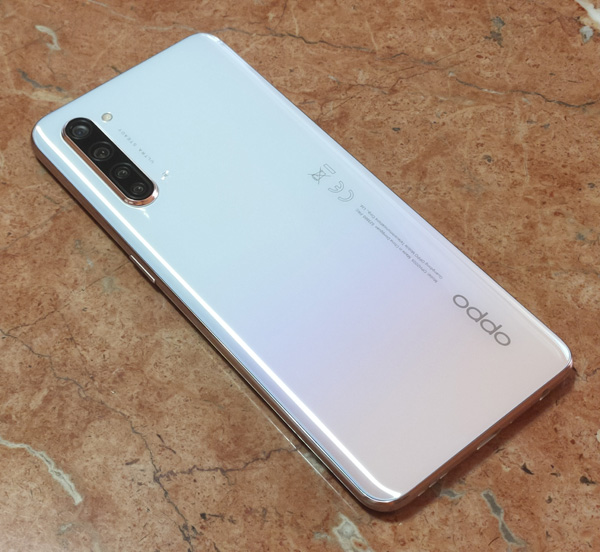 Seen in the photo OPPO Find X2 Lite may seem a bit anonymous, if you consider its aesthetic features. There are many smartphones made this way. But if you think so, you are only partially right. Seeing this smartphone Android live, it is indeed possible to notice one aesthetic care higher than the usual mid-range models with which the market is now saturated.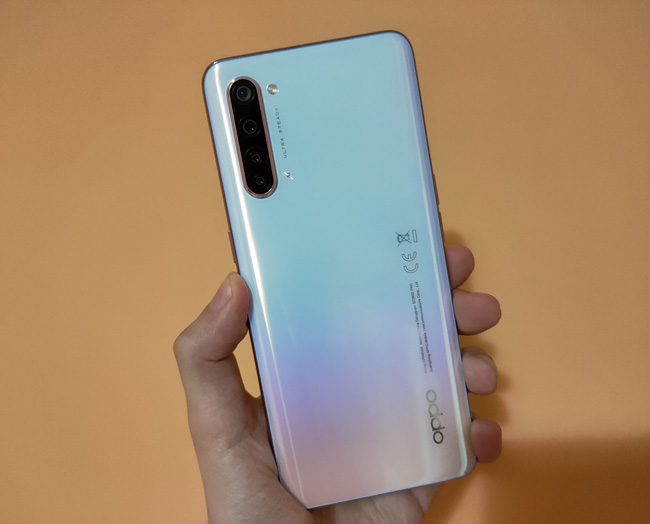 OPPO Find X2 Lite is in fact built in a truly remarkable way: despite being a device with a generous battery and technical characteristics of good caliber, it is very thin and light and you can feel it in your hand: the thickness is only 8 mm, while the weight is 180 grams. It is also a terminal formed by a glass body (protected by Gorilla Glass 5) and a metal frame just like the top of the range. Also very attractive is the triple pink-purple-blue shade of the white color variant (Pearl White, but there is also a Moonlight Black version), which takes on different shades depending on the angle from which the user looks at the phone.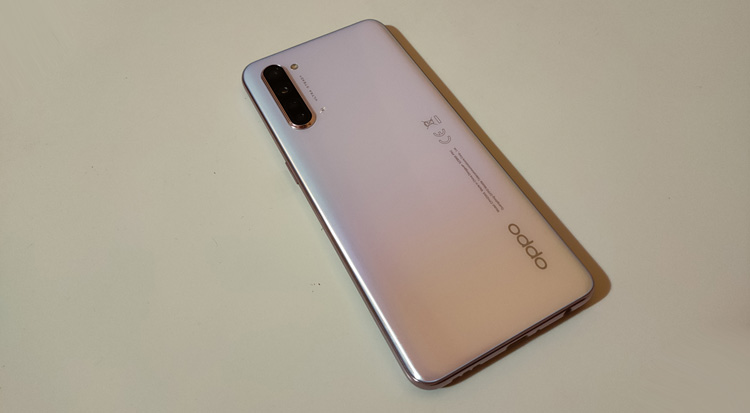 We are undoubtedly far from the splendid aesthetics of the big brother Find X2 Neo and the look is undoubtedly anonymous, with the usual teardrop notch on the display and the usual traffic light camera module. But the constructive quality however, it makes its aesthetics very enjoyable and allows it to offer something more than the usual mid-range. And the dimensions are also quite compact. In package we find a complete equipment: there are the smartphone with a pre-applied film (not in tempered glass), a 30W VOOC charger and the original OPPO wired earphones (not in-ear).
Display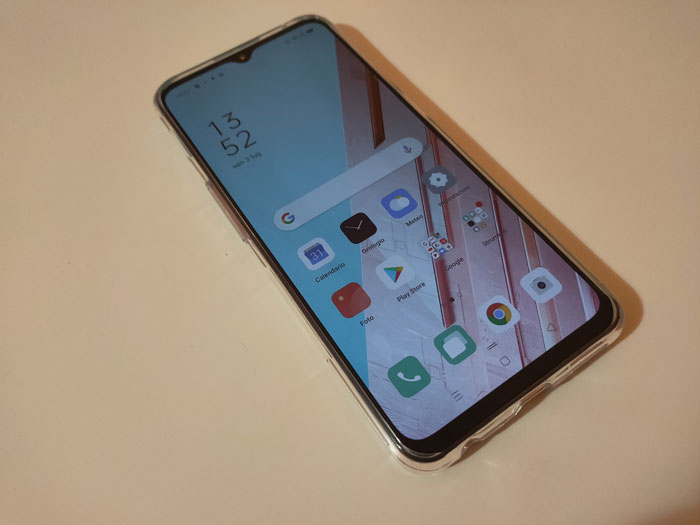 It may not be the most impressive display out there, but it is still a panel that is reductive to define good. We are talking about the display of OPPO Find X2 Lite, strictly AMOLED, with a 6,4-inch diagonal and Full HD + resolution. The overall yield is very good, with one color reproduction well above the norm for a mid-range device, and also with a high one brightness which allows for trouble-free viewing under the sun.
Comparing it with the Find X2 Neo (in case it might come in handy we have reviewed him too) which is a higher-end device sold at € 699 in the price list, we notice a slight difference against OPPO Find X2 Lite in the reproduction of colors, but nothing transcendental. Unfortunately no high refresh rate, this confines this display to the mid-range only, but it is a good panel. Being AMOLED it has bright colors and absolute blacks, but also support for Always On mode and a in-display fingerprint reader quite accurate and combinable with face unlock. Audio comes from one speaker which is unfortunately mono, but powerful and with well-defined frequencies. The capsule audio and the dual microphone are also good.
Hardware and connectivity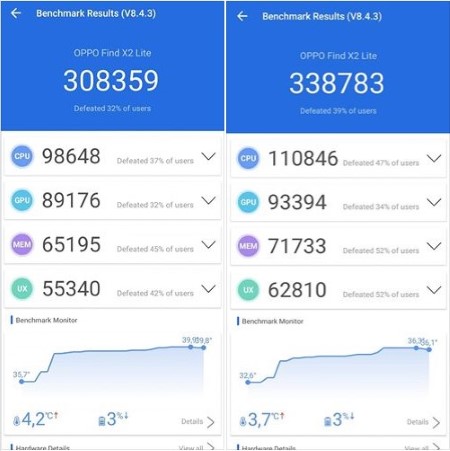 The hardware department of OPPO Find X2 Lite consists of an octa-core processor Qualcomm Snapdragon 765G, 8 GB of RAM and 128 GB internal memory type UFS 2.1. And here we are really at excellent levels: the performances are very high and excellent even for those who want to make their mobile phone a fairly advanced use. The G in the name of the processor is not put there by chance and indicates its high graphics performance, which makes it suitable for the Gaming.
The performances are not at the level of the top of the range, but they are still very high. OPPO Find X2 Lite has all the connectivity options you can expect from a smartphone at the top of 2020. First of all the 5G, although it should be noted that it is limited in speed and reaches a maximum of 1,9 Gbps. However, it will take years to reach this speed with the Italian networks, at the moment we have not even reached 657 Mbps.
On board OPPO Find X2 Lite we also find the 6 WiFi, an accurate Dual frequency GPS, audio jack 3,5mm for headphones, Bluetooth 5.1 and NFC for mobile payments. Virtually impossible to be disappointed with such a connectivity sector, were it not for the fact that this device is mono SIM: to the disappointment of those who have two phone numbers, with this smartphone you will have to give it up because it is not dual SIM.
Software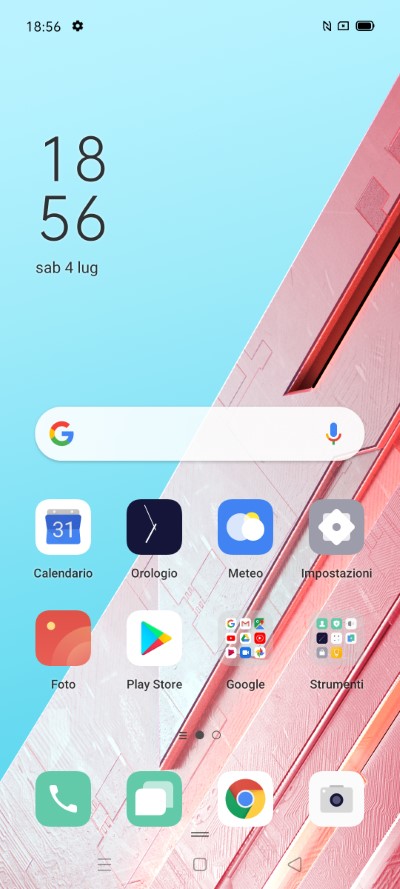 OPPO Find X2 Lite comes with already on board ColorOS 7 based on Android 10. A user interface with which OPPO has made great strides compared to the previous version, making substantial improvements both in terms of functionality and performance.
It took just one major update to this manufacturer of wonders to bring its Android customization from a fairly immature state in some respects to compete with the best interfaces on the market. Certainly there is further room for improvement, but we cannot but define the ColorOS 7 a great software, Westernized at the right point and packed with features.
In addition, this smartphone also seems to be quite supported at the software level, since we have already noticed several updates. And these are always updates made with criteria. Just to give an example, after one of the updates that reported in the changelog "improvements to performance and system stability", we noticed an increase in the benchmark score of over 30.000 points. We can only hope that the company will continue on this path.
Camera
NB: the photos shown above are compressed. To view the photographs in full resolution and with the original quality you can visit this outdoor gallery.
Unfortunately, it does not have OIS and telephoto like its bigger brothers, but this OPPO Find X2 Lite still manages to take considerable photos. Its photographic sector consists of a 48 Megapixel f / 1.7 main sensor, one 8MP wide-angle secondary and two 2MP for macro and depth calculation. Really very good photographs taken in good light conditions, with excellent color reproduction and ever-present detail. If you use the night mode, you can shoot just fine even in low light.
Also very interesting stabilization (although it is not optical) which allows you to record excellent videos, even in 4K resolution. To surprise even more, however, is the 32 Megapixel f / 2.0 front camera which makes this device a real selfie phone due to a very high definition and good colors. It should also be added that the software management of the OPPO camera is among the best ever, and this explains why with the rear sensors that on paper are not who knows what you can still get excellent shots.
Battery
This terminal mounts a battery with a capacity of 4025 mAh which allows it to get a good yield and to last more than enough on a single charge. Its not excessive capacity allows the smartphone to remain thin and light. Yet with the great software optimization of ColorOS 7 this device manages to guarantee a duration that makes it always end the day. It also supports the VOOC fast charge at 30W thanks to which it can recharge very quickly and reach 50% in just 20 minutes.
OPPO Find X2 Lite: conclusion and price
If you have read the whole review, you will have noticed that we have promoted OPPO Find X2 Lite in practically all aspects. We have never praised the exaggeration because the goal of this device seems to be not to amaze the user, but to provide a level experience that can be enough for everyone from every point of view. It is the classic device it offers a complete and never disappointing experience in any type of use, but without excelling in anything.
Plus, it offers 5G at a very low price. In short, a king of value for money, even if at first glance it would not seem like it. Its list price without considering current offers and write-downs amounts to €499 in the 8/128 GB configuration which is the only one marketed in Italy. The official retailers in Italy can be found on the official website: they are Amazon and the major electronics chains, along with some other e-commerce.
OPPO Find X2 Lite
Design and construction -

8/10

Display -

8/10

hardware

8.5/10

software -

8/10

Camera -

8/10

Battery -

8/10

Price -

7.5/10
Final verdict
We have given this smartphone almost all 8 and it is not for the lack of attention: on a scale from 1 to 10 it is the number that describes it perfectly both for the range to which it belongs and for the convenience. Much more than satisfactory in everything, excellent in nothing. OPPO Find X2 Lite is intended for those who want a balanced device without any shortcomings, saving a lot compared to the top of the range thanks to minor compromises.
---
✓PRO
Premium design
Thin and light
Good photo sector
Good hardware and software
5G at a modest price
Balanced in everything
NFC and audio jack
✕ AGAINST
Single SIM
Limited 5G speed