Realme wants to conquer the mid-range and one of its goals for 2021 is democratize 5G making it really affordable for everyone. We can say that he is succeeding very well in both ambitions, and we can affirm this with further strength after trying Realme 7 5G. A smartphone that we can not only define complete in terms of technical data, but also one of the cheapest Android devices with 5G connectivity.
It is the 5G variant of the even cheaper Realme 7 that we already have reviewed, nevertheless it has very little in common with the latter. Beyond the current degree of diffusion of fifth generation networks, will it really make sense to buy it and prefer it to internal and external competition considering the value for money? Let's find out together the answer to this question and the true value of this device and all its advantages and disadvantages in the Realme 7 5G review.
Realme 7 5G: technical sheet
Dimensions and weight: 162.2 x 75.1 x 9.1 mm / 195 grams
Display: 6,5 ″ IPS LCD Full HD + (1080 x 2400p) 120 Hz
Processor: MediaTek Dimensity 800U, octa-core 2,4GHz 7nm
Memory: 6GB RAM + 128GB UFS 2.1 + micro SD slot
Software: Android 10 + Realme UI
Connectivity : 4G, 5G, dual SIM, GPS, NFC, Wi-Fi ac, Bluetooth 5.1, USB-C, OTG
Rear camera: quad 48 + 8 + 2 + 2 MP (main f / 1.8 + wide angle f / 2.3 + macro f / 2.4 + depth f / 2.4)
Front camera: 16 Megapixel f / 2.1
Battery: 5000 mAh with fast charging at 30W
Price: € 279 (price list version 6/128 GB)
Realme 7 5G: Full review
Design and materials
Inside Realme 7 5G hides technical specifications of enormous thickness, a true best-buy, but its design is not exactly its strong point. First of all this is not a smartphone among the most comfortable to hold in your hand and pocket, considering that its thickness (9,1 mm) and its weight (195 grams) exceed, although by not much, the average.
The shell is made of classic polycarbonate instead of premium materials such as glass and metal, however it is still quite beautiful to look at thanks to the neat external finish. The screen is flat, punch-hole type, with a fairly high display / front panel ratio. The device also offers weather protection for doors and speakers.
The rectangular camera module makes it look quite modern as well as its perforated display: in short, aesthetically it is not at all to be thrown away, but there is certainly better.
Display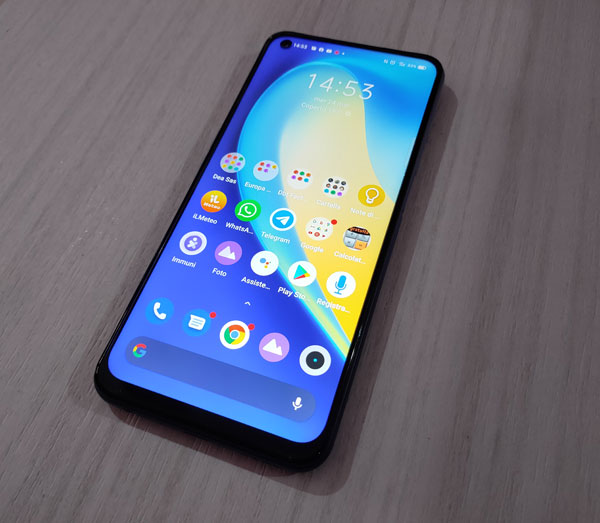 A really thick screen was used for Realme 7 5G, if we consider the price at which this smartphone is sold. AMOLED purists will be disappointed (although at a similar price it is difficult to expect such a screen), but this device has been equipped with a very good resolution IPS display Full HD +.
Its killer feature is definitely the refresh rate to 120 Hz, which maximizes visual fluidity and is a lifesaver especially for gamers. Well the color reproduction as well as the brightness which settles overall on 480 nits. The audio sector is also not bad, although the speaker is mono. The screen is surrounded by thin edges and is punch-hole, so it has a hole for the front camera.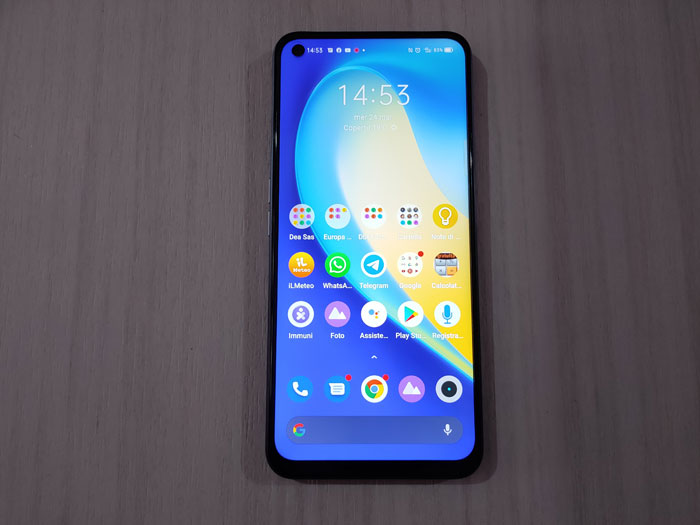 Il fingerprint reader, very reactive and precise (unlocks 9 times out of 10), it is not positioned on the display but on the power button on the side. The screen size is not compact but not excessive either: 6,5 inches, suitable for both advanced uses and those who do not want a very bulky smartphone. Too bad for the oleophobicity: the device retains some fingerprints, so it is recommended to use film or tempered glass (there is one pre-installed, but she is also not oleophobic).
Hardware
On the hardware side we find this amazing device and one of the best performing in the range under 250 euros (street price). It has a processor under the body MediaTek Dimensions 800U, a memory RAM from 6 GB (there is also a variant with 8 GB) and a 2.1 GB UFS 128 internal memory expandable via micro SD.
With this device you can really do everything while maintaining very high speed and stability. Let's be clear: it is not a top of the range. However, most users won't be able to discern this, as performance is snappy even with multi-tasking and 3D gaming. The performance of Dimensity 800U is comparable to that of Snapdragon 765G: the smartphone manages to maintain very low temperatures, has good graphics performance thanks to a powerful GPU and practically never suffers from jamming.
There is also 5G connectivity on board which supports the frequency spectrum below 6 GHz. Realme 7 5G is one of the cheapest 5G smartphones in the world, nevertheless it does not have the weakest 5G processor there is but it still ranks on the medium-high range.
Reception is very good, WiFi 6 is missing in favor of the classic WiFi 5, while Bluetooth 5.1 (excellent), NFC for contactless payments and of course GPS are present. The USB-C port has no video output but supports OTG technology for connecting peripherals. No FM radio, no ability to record calls with third party apps.
Software


The operating system pre-installed on the smartphone is Android 10 customized by the tried and tested Realme UI based on OPPO's ColorOS. As we have already explained to you several times, the brand was born with ColorOS, then the paths of OPPO and Realme split and the interface began to change in some features as well as in the name, but it still remains almost the same as ColorOS.
It definitely is one of the best android based user interfaces of the moment, with large optimizations which have led the current version to be far superior to the previous one. It is low in consumption, well optimized and has a very satisfactory amount of functionality for practically everyone.
We did not find any bugs on the device and it has received security updates (which are released periodically but not monthly), but until this review is published it does not yet have Android 11 and Realme UI 2.0.
Camera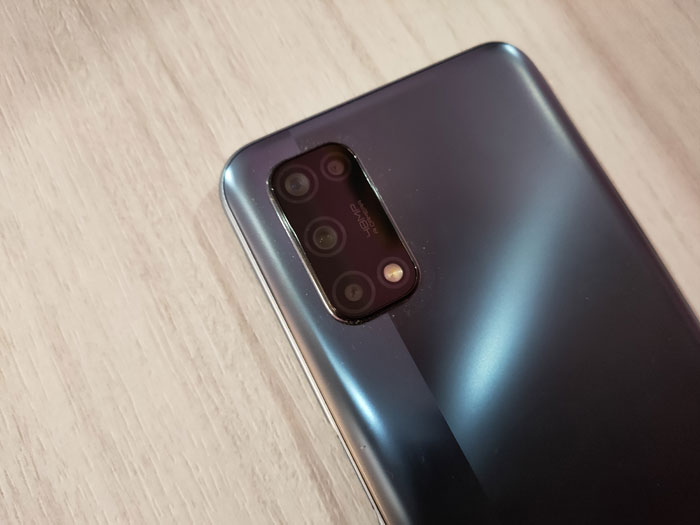 The photographic sector of Realme 7 5G is practically the same as Realme 7 and consists of a quadruple rear camera with main sensor from 48 MP f / 1.8, 8MP wide-angle sensor, 2MP macro lens and 2MP depth sensor; can record video in 4K.
The front camera, on the other hand, is 16 MP and records in 1080p. Realme 7 5G is not a camera phone and does not even come close to it. Although the photos are anything but disappointing, the camera is not its strong point and offers photographic quality aligned with the price range at which it is sold. Photos look good when there is light, but if there is little light the noise and the lack of detail take over and make the shots sufficient.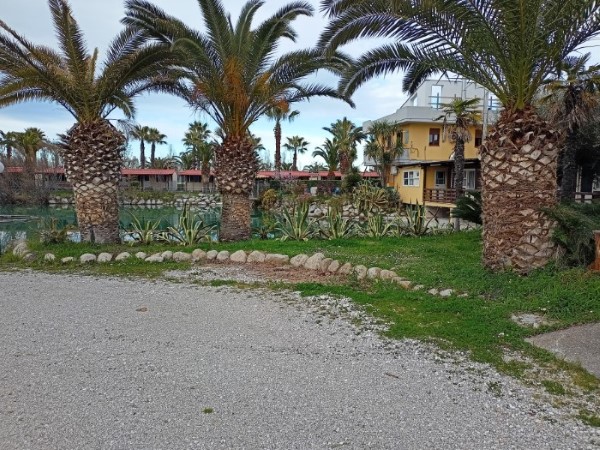 If the lighting conditions are not adverse, the photos can also come out very well, with faithful colors and excellent definition, while it can happen when there is too much light that a bit of sharpness is lacking. All in all, however, we cannot at all be disappointed for a device of its range. In this gallery find the photos you have seen above in full resolution.
Battery
Realme has decided to equip this mid-range with a very large battery: inside Realme 7 5G there is space for a 5000 mAh which is truly a delight. It could be hers excellent autonomy the needle of the scales that will lead you to choose it, because this device can also last a day with a little remaining charge even in stressed use.
The processor built at 7 nm consumes very little and goes to counterbalance the 120 Hz of the display which instead have higher consumption than normal. So the battery capacity makes the difference and allows this device to even reach two days if the use is average. If you don't use 5G with a busy use, you will get at least 6-7 hours of screen time. Another gem is definitely the quick charge to 30W thanks to which the battery, despite being well 5000 mAh, can get from 0 to 100% in just over an hour (and 50% in less than half an hour).
Price
Realme 7 5G is a best-buy, there is little to object. It is one of the smartphones that have managed to really make 5G affordable for everyone and has an amazing technical data sheet for its range. Thanks to the street prices it is not difficult to find it for sale at 230 euros despite its list price is 279 €. In terms of value for money we are therefore close to the top and the device has always been offered at an honest price.
Realme 7 5G: Conclusion
Despite the price, Realme 7 5G is not a smartphone for those who are satisfied with little. Its data sheet has no major shortcomings and it can make any type of user happy, even the demanding ones. Design and cameras are perhaps the exception that confirms this rule, but we are still talking about design and cameras from a good budget smartphone, and not at all about something disappointing.
Lato performance this device really satisfies a lot, and offers a user experience worthy of the name also from the point of view of the display, software, battery and connectivity. In short, it is a guarantee and can allow many users to save while having a 360-degree smartphone.
Realm 7 5G
Design and materials -

7/10

Display -

8/10

hardware

9/10

software -

8/10

Camera -

7/10

Battery -

8.5/10

Price -

9/10
Final verdict
Realme 7 5G is a best-buy suitable for everyone that minimizes shortcomings and offers 5G, performance, autonomy and also an interesting display at a record price. The only real compromise? The photographic sector, which however remains aligned with the price range.
---
✓PRO
Amazing performance
5G
120 Hz display
Super battery
Quick charge to 30W
NFC and 3,5mm jack
Great price
✕ AGAINST
Camera only average
Not amazing construction
€279,00
available
Used (13) from € 211,05
to July 2, 2023 2:37 pm
Last updated: July 2, 2023 2:37 pm