The battery of your OPPO smartphone drains too quickly and despite having VOOC fast charging available, do you need to save battery to make it last longer? Do you want to make as many hours of screen as possible because you use your device a lot? We have the right tips for you.
All the latest generation OPPO devices are equipped with good capacity batteries, however autonomy has always been the Achilles heel of Android mobile phones and continues to be. But on OPPO smartphones, thanks to some features integrated into ColorOS and various tricks, you can save battery and extend the life of your lithium-ion battery even considerably, from the first charge to the end of the smartphone's life cycle.
In this guide we will explain how to save battery on OPPO smartphones showing you all the best tips to reduce energy consumption on ColorOS. Thanks to them, with the most performing smartphones in terms of autonomy, you will also be able to exceed two days of duration with intensive use. Some of the tricks explained are also valid with another mobile device of a different brand, others only on the ColorOS.
How to save battery on OPPO smartphone with ColorOS: 10 tricks
Let's discover together 10 tricks to save battery on OPPO smartphones running ColorOS. You can move quickly using the following index.
Activate the Dark Mode (even on apps!) Of ColorOS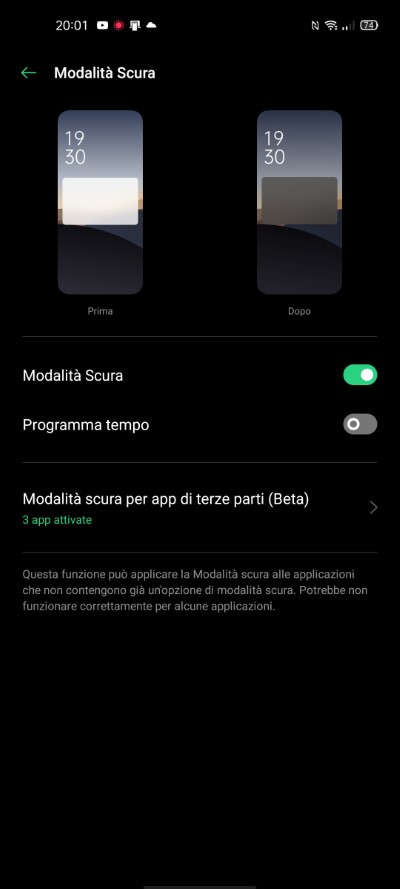 The Dark Mode, in Italian known as dark theme, is that graphic option that makes the user interface of the smartphone black or in any case dark in color. This allows you to save battery in a considerable way: it is most noticeable on AMOLED displays, where black pixels are dead pixels, so they consume zero energy.
But with any type of panel black or dark pixels have lower power consumption compared to light color pixels. Going to activate the Dark Mode even your eyes will thank you, because it is a mode that reduces eye fatigue. Of course, you will have to get used to reading white lettering on a black background instead of black on a white background, but once you get used to it, Dark Mode is to the advantage of sight and consumption.
The ColorOS starting from version 7.0 based on Android 10 is equipped with the dark mode at the operating system level and it is possible to activate it from the settings. To proceed with the activation on your OPPO smartphone, follow this procedure.
Open the Settings
Select Display and brightness
Turn on the switch corresponding to the item Dark mode
Give theok
This option will darken the operating system interface. But that's not all: on some OPPO smartphone models (the most recent) you can also activate dark mode on third-party app.
To do this, after activating the switch next to Dark Mode, tap on the writing Dark mode and then select the item Dark mode for third party apps. You will find a list of applications within which you can choose to enable or disable dark mode within each individual app, including Facebook, WhatsApp, Instagram and so on.
Disable background apps and data on ColorOS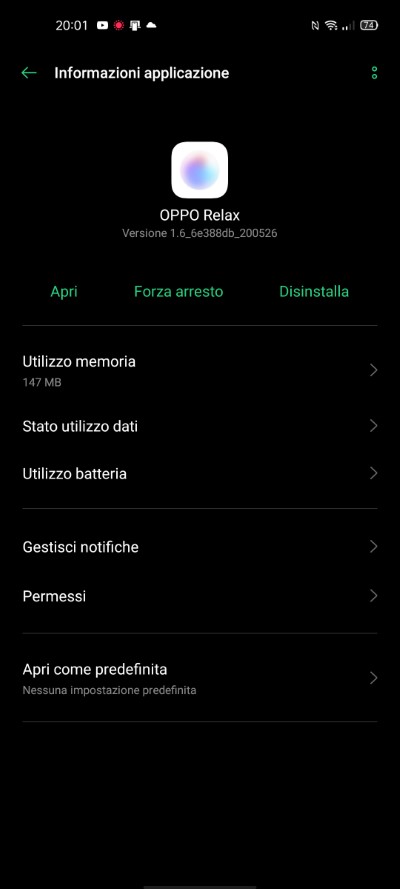 Many applications for Android, even if they are not used, remain open in the background until you close them manually. Many of them also continue to use the internet connection in the background. All this naturally results in higher consumption. To save battery, you can disable the use of the connection in the background by the apps or even forbid their entire execution in the background to make them close when you stop using them.
If you want to proceed, go to the Settings, then tap on App management, select App List and touch one of the app that you don't want to use the data in the background or you don't want it to run in the background. Then tap on Data usage status and turn off the switch at Use background data. You will have deactivated the use of the connection in the background.
To completely eliminate the execution of the app in the background, go back to the app screen from which you have selected Data usage status and this time go to Battery usage, then remove the switch from Allow background activity e Allow automatic start. Do this with all the apps you don't want running in the background to save battery.
Check consumption and eliminate energy-intensive apps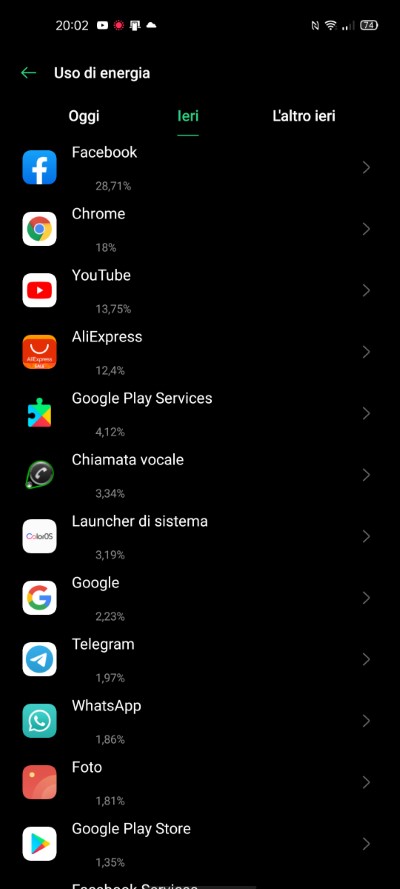 In the ColorOS interface there is a section through which it is possible to trace the reasons why the battery runs out quickly. You can access it by going to the Settings, selecting the item Battery and then tapping on Use of energy. Here you will find the percentages of energy consumption of your applications: if you notice that there is an app that consumes too much compared to the others despite not using it for the same time as you use the others, you can decide to uninstall the app (from Settings> App Management> App List) or disable its background execution with the method we showed you in the previous paragraph.
Activate the energy saving of ColorOS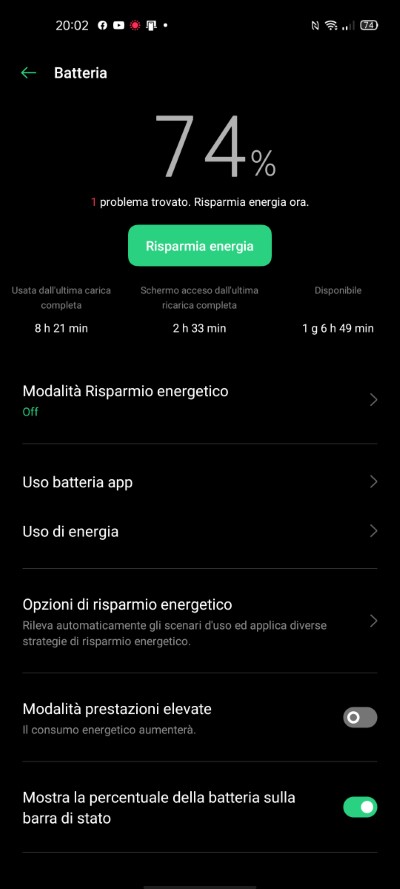 The ColorOS interface present on the OPPO smartphones has its own energy saving mode that is used to save battery: you will have noticed it when your device, in view of a total battery discharge, will have asked you to activate it.
To save battery and increase the autonomy of your OPPO smartphone, you could always keep energy saving active. You can find it in the settings, within the section Battery. Just tap on Energy saving and then activate Energy saving mode to enable everything. You can also decide to enable the function to a certain charge level battery to save battery only from a certain point in time.
Further down in the Battery section you will also find the voice Energy saving options containing a function to further optimize consumption while you sleep. At the top of the same section you will find the item Save energy which will give you tips to save battery and the ability to put them into practice with a single touch.
Reduce animations to save battery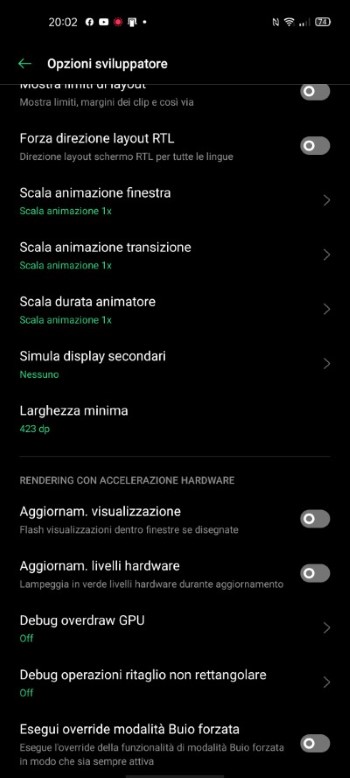 The animations of the interface also consume and reduce the duration: reducing them leads to saving battery. To do this, go up Settings and select the item Phone info. Select Base band and kernel, then tap repeatedly 7 times higher consecutive on Build number, then enter your OPPO smartphone password if prompted.
Going back in the Settings and tapping on Additional settings you will notice that a new section named has appeared Developer options. Touch us and scroll down until you find the items Window Animation Scale, Transition Animation Scale, and Animator Duration Scale: bring all these items to 0,5x (or turn them off if you don't mind deleting animations altogether).
60Hz refresh rate to save battery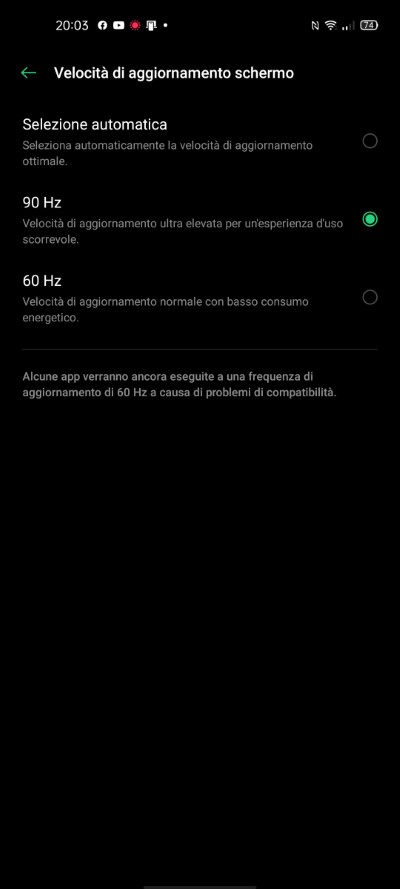 This trick does not work on all OPPO smartphones, but only on those that have a display with a refresh rate higher than 60Hz (90Hz, 120Hz, and so on). This refresh rate is present on many devices to ensure a smoother visual experience: animations and movements appear more fluid to the eye both in the user interface and in apps and games.
However this function consumes more energy and deactivating it on the ColorOS saves battery. To deactivate, go to Settingsselect Display and brightness and then tap on Screen refresh rate. Finally, you have to tap on 60 Hz to set the standard refresh rate which has lower consumption.
Disable data connection, GPS and Bluetooth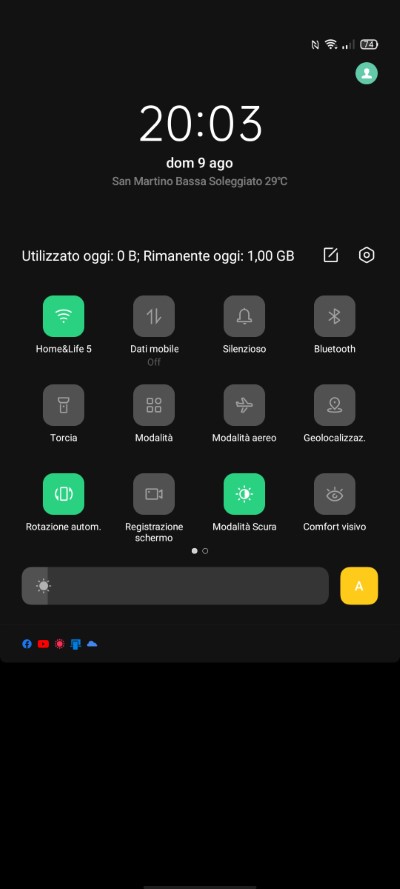 When you don't need to use Bluetooth, but especially your data connection and GPS, turn them off to save battery. 4G, 5G and GPS are the connectivity options that consume the most and it is best to keep them off if you are not using them, because you get noticeable effects on battery life.
Disabling these connectivities is easy - just do one swipe down starting from the status bar and making a further swipe to fully open i quick toggle, that is, the switches for activating and deactivating the options. Tap on the icon Mobile data to deactivate it, on the icon Geolocation and the Bluetooth icon (if they are active). To save battery further on your OPPO smartphone you can also deactivate NFC and WiFi, if you do not need them, as well as activate the flight mode which will temporarily disable the telephone line.
Disable Google Assistant on OPPO smartphone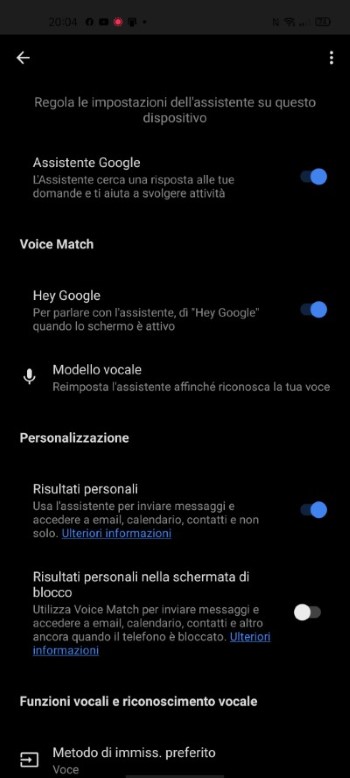 Even by deactivating "Ok Google"You can save battery. If you don't need it or are only using it for entertainment, disabling it is a wise choice. To do this, open the Google app pre-installed on your OPPO smartphone with ColorOS, tap on Other bottom right and then up Settings, then up Google Assistant. Select the tab Assistant, scroll down and tap on Phone, then turn off the voice Google Assistant.
Reduce brightness and disable automatic brightness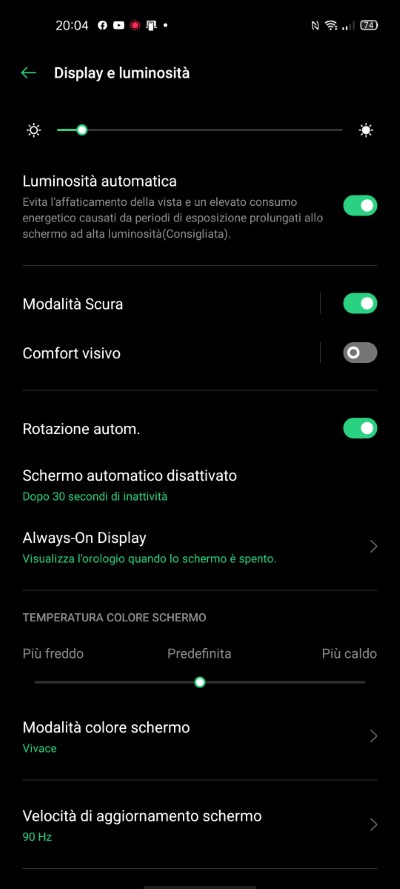 Precisely in order to reduce consumption, but also to ensure the best visual experience without causing eye fatigue, OPPO smartphones are equipped with automatic brightness. However, you can save battery further by turning off automatic brightness and setting the phone's brightness to minimum.
This could cause you to have problems seeing the display in particularly bright contexts, but in that case you can raise it again temporarily. To deactivate the automatic brightness, go to Settings, touch Display and brightness and turn off the switch corresponding to the item Automatic brightness. Through the slider located immediately above, you can lower the brightness to the minimum: just drag it all the way to the left.
Disable automatic sync on OPPO smartphone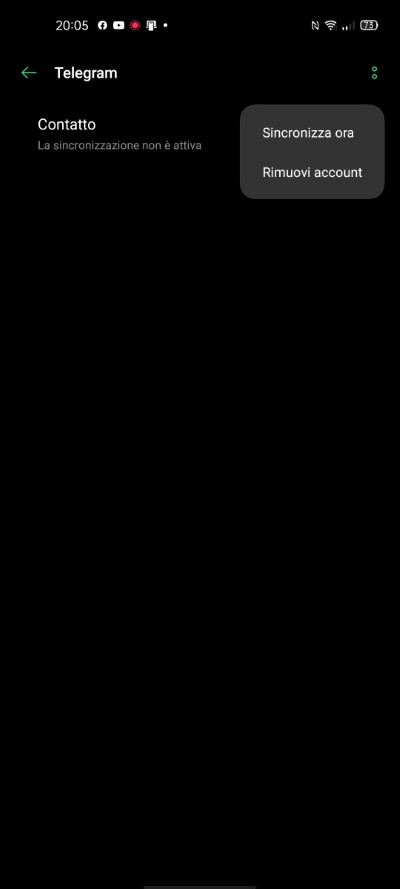 Many applications have automatic synchronization enabled. For example, think of Gmail, which occasionally synchronizes e-mails to send them to us automatically without us having to log in. Well, for apps for which you don't need automatic content syncing, you can turn it off to save battery. To do this, access the Settings, so go up Users and accounts.
For each app you can deactivate the synchronization by clicking on theapplication, then on two dots top right and then up Remove account. Alternatively, you can also disable the automatic synchronization of all apps by moving the switch next to to Off Automatic data synchronization.